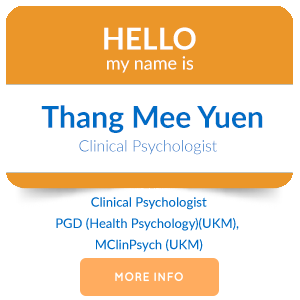 Thang Mee Yuen is a clinical psychologist who is also trained in therapeutic play skills by Play Therapy International, UK and a certified trainer in emotional literacy accredited by Sophia College, Western Australia. She is experienced in conducting psychometric assessments and working therapeutically with both adults and children in both public hospitals and private settings.
Besides working one-on-one with her clients, she also facilitates a wide ranging workshops for self-growth and parenting for adults, and teaching mindfulness principles to children and adolescents. A firm believer in life-long learning, Mee Yuen has been learning and exploring alternative ways for self-growth and spirituality.
Professionally, she is particularly interested in combining cognitive behavioural approach with expressive arts in conflict resolution, grief and loss, and empowerment.